The Sycamores first built and occupied!
Thomas Scovell ≈1863 - 1865
1854: Thomas and Alice marry in Liverpool.


The Morning Chronicle, Friday, April 21, 1854
Thomas's father was Charles Andrew Scovell who was Secretary to Secretary to the Commissioners of Customs working in Custom House, London.


Thomas Scovell's and Alice Esther Smith's 1854 marriage certificate
1865: According to the 1865 Harrod & Co.'s Directory of Hampshire & Isle of Wight, T Scovell Esq was the first occupant of The Sycamores in 1893 or 1894.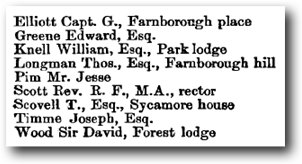 Harrod's directory of 1865
In 1865 there seems to have been only three houses in Farnborough park - Forest lodge, The Sycamores and Park lodge. We believe that Forest lodge and The Sycamores were built at the same time in the years 1864 or 1864.
As can be seen in the list of residents above, there were not exactly a lot of private houses in Farnborough at the time! Farnborough Place, the original Farnborough manor house and Farnborough Hill (completed around 1859) were to the north of the Sycamores and Forest lodge. It is interesting to note that although the house is known as The Sycamores in all censuses and maps, it is mostly called Sycamore house in directories.
March 1865: Alice died in Farnborough in the 'March quarter' of 1865.
Alice's death was recorded in The Times © on Saturday, 25th March 1865.

June 1865: The Sycamores up for sale for the first time!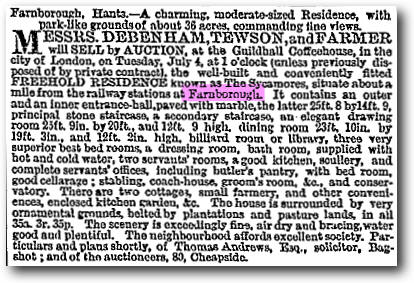 The first sale notice for The Sycamores in The Times ©, Saturday, Jun 03, 1865
Further research showed that Thomas Scovell married again in 'June quarter' 1867 to Sarah Sheppard and they went on to live in 84 Ladbroke Grove, Kensington London as listed in the 1871 and 1881 census. We therefore assume that Thomas and Alice moved out of The Sycamores after 1865.
We have been unable to locate a repeat advert before July 4th 1865 so it is likely a private offer was made and accepted.
Why was The Sycamores up for sale? It could be that William Knell built it and still owned it having only leased it to Thomas Scovell. It was then put up for sale but didn't sell so William Knell carried on being the owner until 1871 when he was listed as living there. More likely was that it was Thomas Scovell selling the house which may have been bought by William Knell (the next occupant). More research is required.
1867: According to the Kelly's Post Office directory for 1867 [Credit: The Institute of Heraldic & Genealogical Studies], there was no resident listed in The Sycamores in 1867.
In 1867 William Knell lived in Castleden hall, a mansion he had just built and had not yet moved to The Sycamores. By 1867, Park house

[lodge], Mapperton house

[lodge] [later combined to become Belgrave house], The Sycamores

, Forest lodge

, Castleden hall

and Croxted house

had all been built.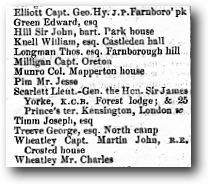 1867 Kelly's Post Office directory
1894: Thomas Scovell's death was recorded in The Times © on Tuesday, Feb 06, 1894

Thomas was buried in the Kensal Green Cemetery

in London. His second wife Sarah was also buried with him in 1898.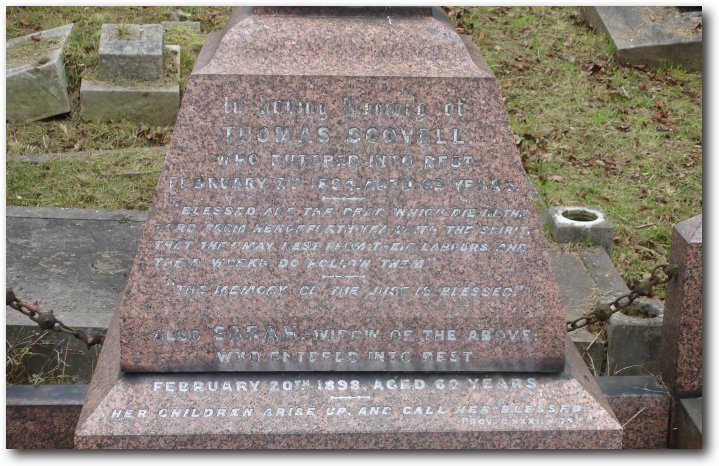 Thomas and Sarah's grave in the Kensal Green Cemetery in London